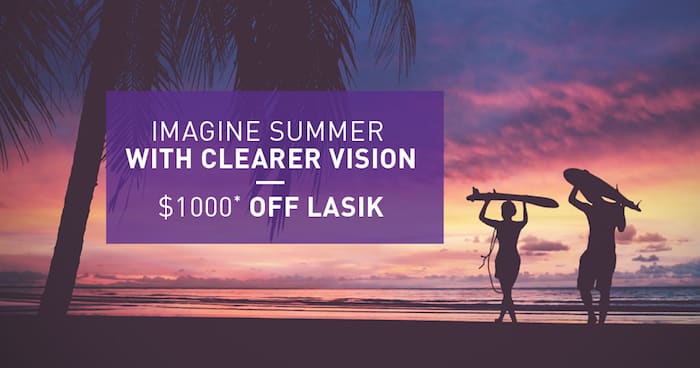 Diego, summer is no time to be sidelined by the ongoing hassle of contacts and glasses.
Whether you're an outdoor enthusiast or just love going for a hot summer's day swim, the freedom that comes with vision correction surgery will undoubtedly shift your summer into high gear. One of our most sought after treatments for summer is Contoura LASIK, a highly effective vision correction surgery that creates a topography guided map of your eye offering superior results.
Gordon Schanzlin New Vision prides itself in being a leader in emerging technologies in the vision and treatments in the vision correction field and Contoura is currently the most highly advanced laser platform in the United States, offering refined detail and precision. Not only do our patients love Contoura, but our doctors are electing to have this highly advanced LASIK procedure as well.
Because we believe everyone should have the best summer ever, from now until the end of August we are offering $1,000 off of LASIK. To see if you are a candidate for Contoura contact us today for a free consultation, as our team of dedicated eye care professionals is here to assist you.
We wish you and your family a happy and sunny San Diego summer, and as always we are happy to be your lifelong vision partners.
*Surgery must be scheduled prior to August 31, 2017. $1,000 OFF discount ($500 OFF per eye) valid on Bladeless Custom LASIK. May not be combined with other discounts or offers, previous surgery, insurance or vision care plan savings.