Pterygium
The whites of your eyes are extraordinarily vulnerable to environmental factors such as ultraviolet rays, particularly the areas that are closest to the nose. A pterygium is an irregular growth of tissue that most commonly affects these specific areas of the eyes, and the condition often afflicts people who spend a great deal of time in the sunlight and near the water. Since Southern California is a haven for individuals who love the outdoors, pterygium conditions are very common here in San Diego. In fact, they are sometimes referred to as "Surfer Cataracts."
Pterygia can cause progressively deteriorating vision and even a loss of eyesight if left untreated. Fortunately, the experienced eye doctors here at Gordon Schanzlin New Vision Institute offer a number of advanced treatments that can address the problem and protect your vision. While there is no medical cure for pterygia, treatment for the condition can dramatically reduce symptoms and minimize the chances of recurrence.
Pterygium Causes and Symptoms
A pterygium is typically caused by prolonged exposure to ultraviolet rays. As the tissues along the whites of the eye (conjunctiva) become more irritated, it can get thicker and thicker. Over time, new blood vessels and scar tissue may develop, ultimately forming a pterygium growth on the eye that threatens the cornea.
The growth can eventually progress over the pupil and distort the curvature of the cornea itself, creating astigmatism. If the pterygium is not treated, vision can be completely blocked.
Symptoms of a pterygium often include:
Distorted vision
Vision loss
Discoloration of the eye
Eye irritation
Excessive tearing
Scarring along the tissues of the eye
Visible cosmetic effects to the eye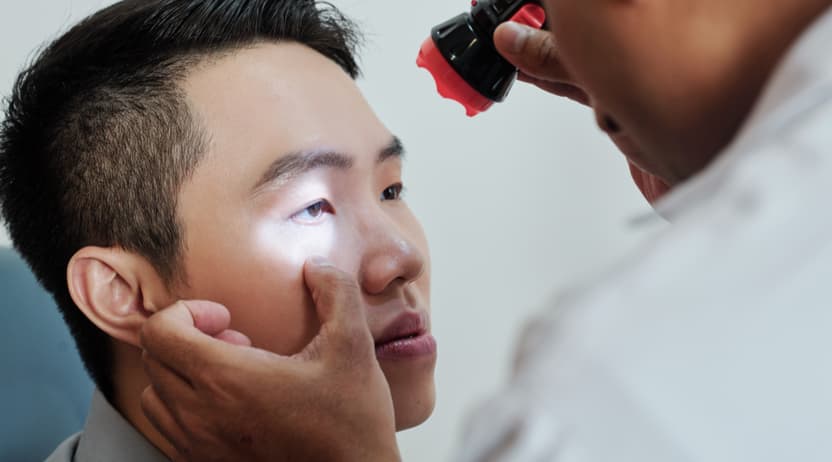 Individuals who spend lots of time in the outdoors, near water, and in tropical climates, as well as those who live near the equator, are often at a higher risk for developing a pterygium. If you are experiencing any of the symptoms above, a routine eye exam can determine whether a pterygium is the cause.
Pterygium Treatment Options
In some cases, a pterygium can be treated with medical eye drops and lubricating ointment to reduce irritation and decreases its growth. In others, the best option may be a surgical procedure to remove the pterygium. There are three major types of surgery that can be performed:
Basic Excision (Bare Sclera)
The bare sclera basic excision technique removes the pterygium and leaves the white of the eye exposed. This option can be very effective; however, there is typically about a 10% chance of recurrence.
Amniotic Membrane Graft
This technique removes the pterygium and replaces it with an amniotic membrane graft. This can ultimately help the tissue heal and reduce inflammation, as well as the risk of recurrence.
Conjunctival Transplant
A conjunctival transplant surgery involves the removal of the pterygium and replacing it with a healthy piece of conjunctival tissue taken from the upper area of the eye. This technique utilizes your own tissue to aid the healing process, and it should not have any damaging effects on the eye.
Amniotic membrane grafts and conjunctival transplants have shown to be extraordinarily effective treatments for many patients, and they typically result in a reduced rate of recurrence. Surgical pterygium removal procedures can usually be performed as an outpatient. Most patients are able to resume normal daily activities within one to two days after surgery, and discomfort or eye irritation should fade quickly. Any pain following the procedure can be managed with prescription medication and eyedrops.
One of our eye specialists here at Gordon Schanzlin New Vision Institute can examine your eyes and determine if you are suffering from a pterygium. If so, our doctor will talk with you about the best treatment options for your needs and develop a customized treatment plan to address the problem and protect your eyesight.
Contact Gordon Schanzlin New Vision Institute
To learn more about pterygium eye conditions, or to schedule a consultation and eye evaluation, please contact us today.