Giving Back to Our World and Our Community
The team at Gordon Schanzlin New Vision Institute is committed to giving back to our community and to the world at large. Our eye doctors regularly donate their time and expertise to many worthy causes and contribute to a variety of charitable organizations. We believe that educational outreach, participation in local and international events, and volunteering services to many of the people who need them the most are very important aspects of any type of healthcare.
"GSNVI is pleased to partner each year with the San Diego County Optometric Society for the Diabetes Walk."
Dr. Schanzlin
"It is a privilege and a pleasure to help in any small way with these well deserved organizations – I have seen in a very personal way the good works that they provide our community."
Dr. Michael Gordon
"We participate in these charities because we believe we need to give back to our community. We have been fortunate in our lives and careers and hope to be able to provide a better future for the community as well as our children and grandchildren."
Dr. David Geffen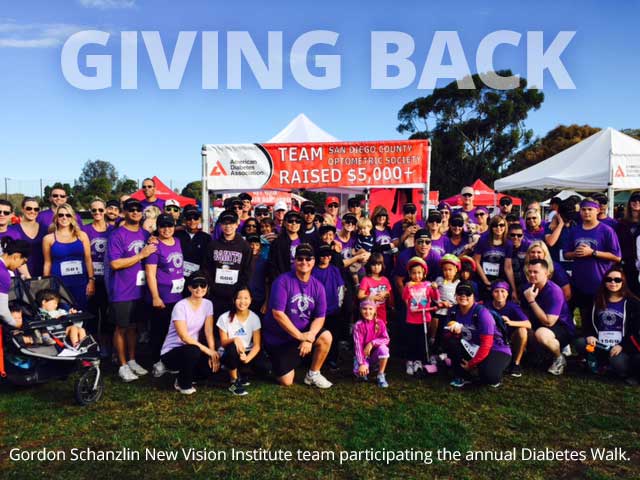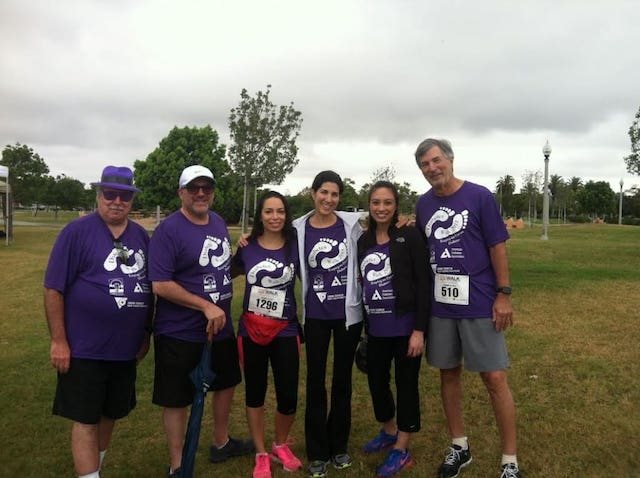 Here are just a few of the ways our practice and our experienced eye care professionals give back:
Dr Michael Gordon has been a contributor to the John Brockington Foundation for many years. John Brockington is a childhood friend of Dr. Gordon's whose foundation is based in the philosophy of creating a culture where organ donation is commonplace.
Dr. Michael Gordon has also contributed a donation of LASIK for many years to the Survivors Rehabilitation Foundation – the philosophy of this Foundation is one that he has personally witnessed and helps to allow brain injury patients to continue their much needed rehabilitation to assist in their recovery.
We participate and serve as a group sponsor for the San Diego County Optometric Society's Step Out Walk to Fight Diabetes.
Dr. David Schanzlin works with the Downtown Lions Club and donates a free LASIK procedure for that organization's fundraiser.
Dr. Schanzlin has been a long-standing member of the San Diego Eye Bank®. He has also served as President and on various committees with that prominent organization. The San Diego Eye Bank® is a non-profit corporation and the largest eye bank in the state of California. The organization is dedicated to the donation and distribution of corneal and other ocular tissue, and is committed to the preservation and restoration of sight. Through the San Diego Eye Bank's Gift of Sight program, the institution has helped more than 25,000 people suffering from corneal blindness restore their vision. In addition to tissue distribution services, the San Diego Eye Bank® also provides support for research.
Both Dr. Michael Gordon and Dr. Alison Gordon contribute surgery and time to Andrew and Denise Gordon's "Celebrating Futures" fund for Rady Children's Hospital, which continues to provide funds for the Pediatric Neuro-Oncology Fellowship at that institution.
Dr. David Geffen has been heavily involved with the JCC over the years. Dr. Geffen and his wife have also been honored by the Seacrest Village Women's auxiliary for their many contributions. Dr. Geffen is the past President of the Lawrence Family Jewish Community Center of San Diego, a former Campaign Chair of the Jewish Federation of San Diego, and the President-Elect of the San Diego Center for Jewish Culture. His wife Sylvia is also the Foundation Board President of the Seacrest Village Retirement Community. In addition, Dr. Geffen is involved with the charity Optometry Giving Sight, an organization for which he gathers monetary donations to provide basic eye care for individuals around the world. He also participates in the collection and donation of supplies and glasses to both the Lions Club and the vision clinic in Tijuana.
Dr. Alison Gordon has worked with Project Access through the San Diego County Medical Society to provide exams and surgical treatment to patients who would not otherwise find care.
In previous years, Dr. Alison Gordon has also been involved with JFS Big Pals and JFS Adopt a Family, as well as Unite for Sight, providing eye exams and screenings to the medically underserved. She has also served as a Volunteer Counselor with the Hole in the Wall Gang Camp for children with cancer and blood diseases.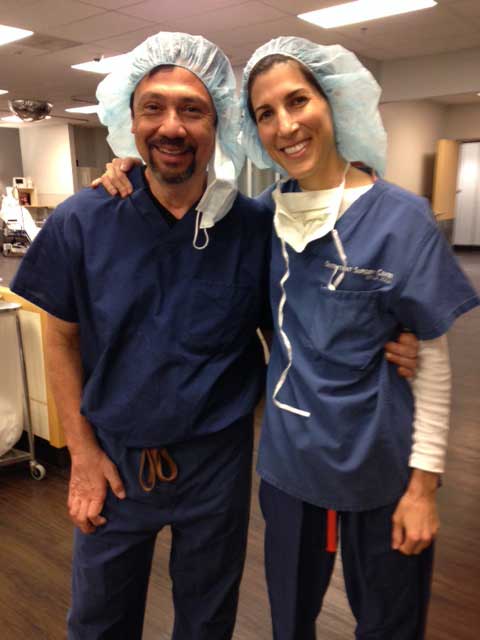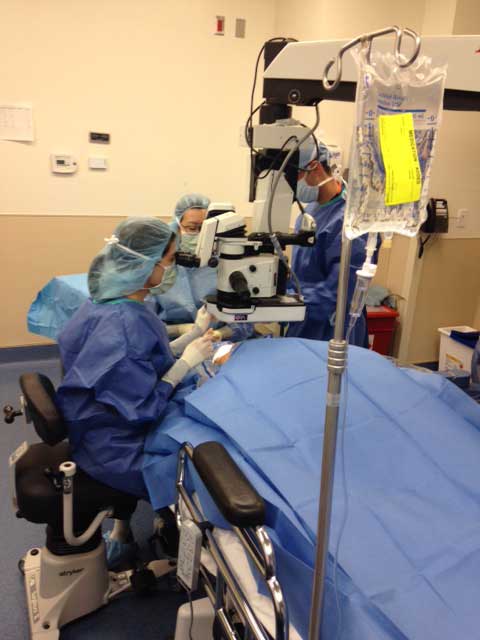 "I am so grateful to be involved in the Project Access program and others that allow me the opportunity to give back. I really enjoy getting to know my patients and their families, and being able to see what a profound impact their new, improved vision has on their lives. Many thanks to all of the volunteers who help make our surgery days possible."
– Alison Gordon, MD
Contact Gordon Schanzlin New Vision Institute
If you have questions about the many services we offer here at Gordon Schanzlin New Vision Institute, or if you would like to schedule a consultation, please contact us today.