Eyelid Surgery
Gordon Schanzlin New Vision Institute specializes in cosmetic treatments for rejuvenating the look of your eyes. Eyelid surgery, known as blepharoplasty, can reduce the appearance of puffiness, fine lines and wrinkles, and excess skin that forms as we age.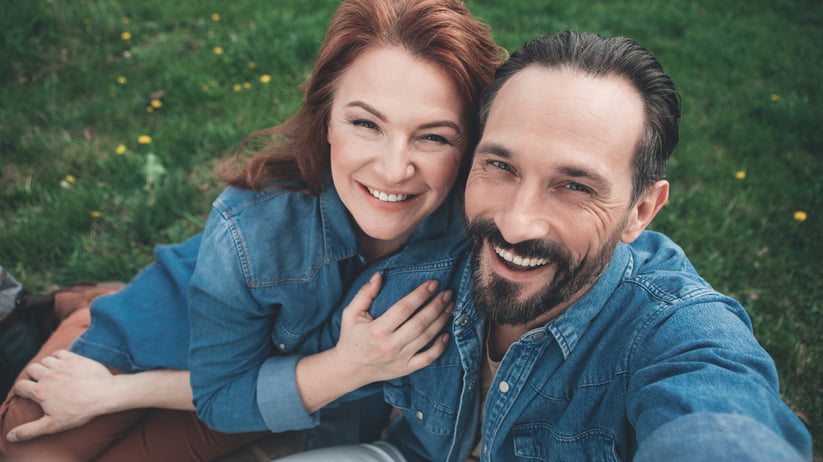 Whether genetics, environmental factors, or the passing of time has created small fat deposits in the lids, when combined with a sagging brow and weakening of muscles above your eyes, you can begin to lose some of your vision in addition to the aesthetic effects that may have been caused. Eyelid surgery can treat all of the following:
Loose or sagging skin that creates folds or disturbs the natural contour of the upper eyelid, sometimes impairing vision
Excess fatty deposits that appear as puffiness in the eyelids
Bags under the eyes
Drooping lower eyelids that reveal white below the iris
Excess skin and fine wrinkles of the lower eyelid
Eyelid Surgery Procedure
The procedure is performed in an office-based surgical suite or Ambulatory Surgery Center (ASC) under local anesthesia or conscious sedation. Plan on being there for one to two hours and have a driver to take you home. Incisions in the upper lids are made along the natural crease; for the lower lid, incisions are typically created under the lash line to minimize visible scarring. Depending on your needs, your surgeon may recommend treating both the upper and lower lids, with or without a brow lift.
Excess skin (that causes wrinkles) and unwanted fatty tissue (that creates heaviness of the lid) are removed, and the muscle around the eye is tightened, if necessary. The incisions will be closed with very fine sutures that will be removed in seven days. Following surgery, any discomfort will be managed by medication and cold compresses to limit swelling and bruising. Most people return to their normal activities within a week to ten days.
Eyelid surgery (Blepharoplasty) is usually considered cosmetic or elective surgery and is not covered by insurance. However, if your vision is affected by droopy lids, your insurance may cover the procedure as "medically necessary."
Patient Before & After Photos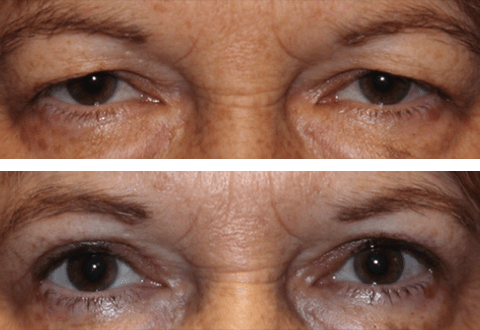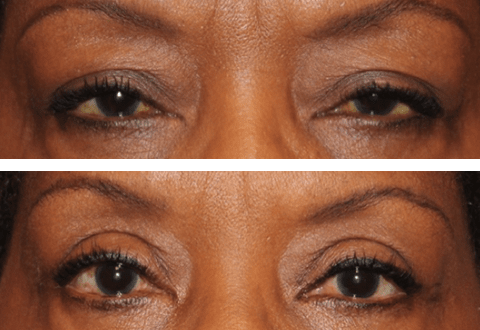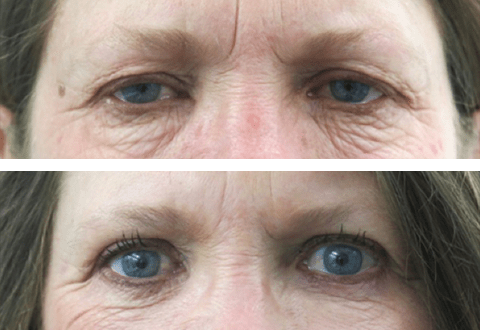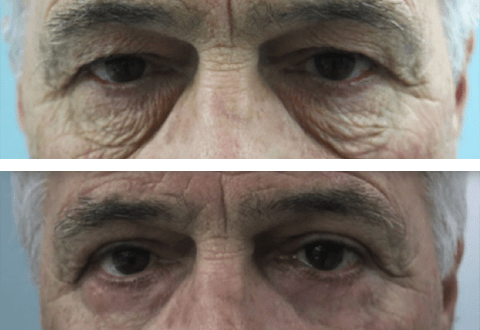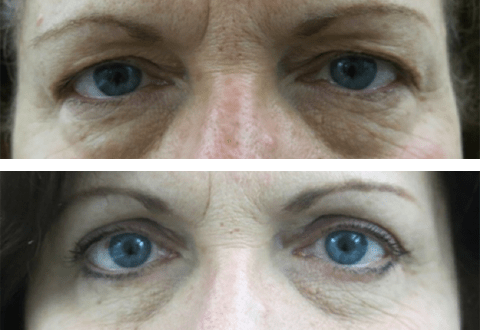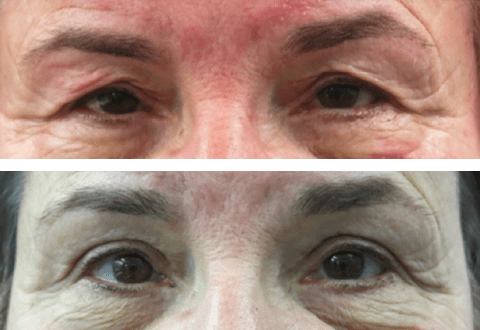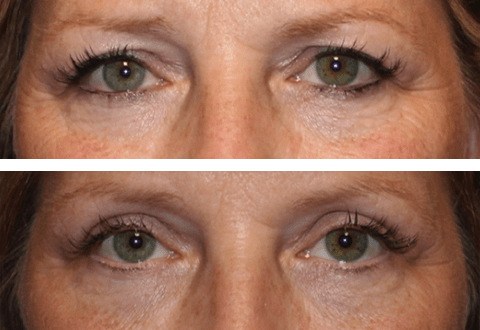 *Results may vary
Surgery Risks and Safety
The decision to have eyelid surgery is an important one, and you need to decide if it will achieve your goals and if the potential risks of blepharoplasty are acceptable. Blepharoplasty is one of the most common cosmetic procedures and most patients are extremely satisfied with the results.
Be sure you understand the surgery and recuperation completely, and don't hesitate to ask your surgeon questions.
Risks associated with eyelid surgery include:
Anesthesia risks
Swelling and bruising
Bleeding from the incision lines
Dryness of the eyes
Sensitivity to sun or other bright light
Difficulty closing your eyes
Ectropion, an outward rolling of the eyelid
Infection
Lid lag, a pulling down of the lower eyelid may occur and is often temporary
Temporary or even permanent change in vision, and very rare chance of blindness
Changes in skin sensation
Pain, which may persist
Poor wound healing
Possible need for revision surgery
Unfavorable scarring
Asymmetry
These risks and others will be fully discussed prior to your consent. It is important that you address all your questions directly with your surgeon.
Contact Gordon Schanzlin New Vision Institute
Interested in learning more about eyelid surgery? Contact us to schedule a consultation.
The Patient Experience
Very professional! I always felt my needs were most important. It was like a hospital setting. Dr. Schanzlin is extremely experienced and knowledgeable about all new, innovative approaches to eye care.
Faith D.