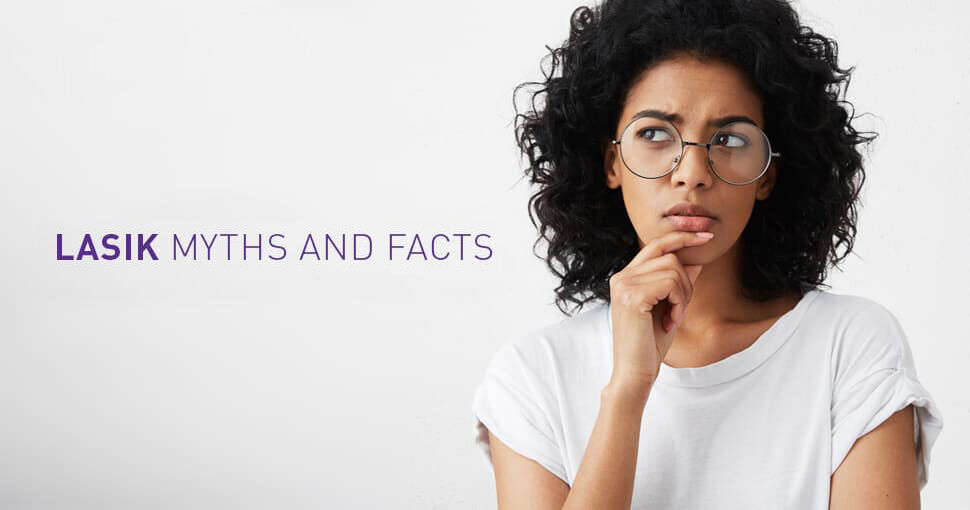 As one of San Diego's leading providers of LASIK, we have advised thousands of patients, listened to their concerns and answered many questions about laser vision correction. Many myths about LASIK are debunked and common questions are answered by simply learning more about how the LASIK procedure works. Get the facts about LASIK, including answers to some of the most frequently asked questions.
What if I blink during LASIK?
We prepare the eye for the procedure with numbing eyedrops, which promotes patient comfort and reduces the urge to blink. Once the eye is numb, the surgeon will use an ophthalmic speculum to gently hold the eyelids open to prevent blinking. Although the total time in surgery is approximately 10 minutes, the actual laser treatment only lasts a matter of seconds!
What if I move my eyes or head during LASIK?
At Gordon Schanzlin New Vision Institute, we utilize some of the most advanced, FDA approved laser technology available to improve the safety and efficacy of your LASIK procedure. Our WaveLight EX500 excimer laser utilizes PerfectPulse®, which is an advanced eye tracking technology that automatically tracks the tiniest, fastest movements of the eye with a latency time of only 2 milliseconds!1 If you move your eye outside of the treatment range, the laser treatment would cease, and then your surgeon would reposition your head and redirect your focus before resuming the treatment.
Could I go blind from LASIK?
There are always risks that should be carefully considered before any procedure, but LASIK surgery has been performed for more than 25 years and is considered one of the most successful elective procedures in medicine! LASIK has a patient satisfaction rate of 96%, which is the highest of any elective procedure.2 In a clinical study featured in the Journal of Cataract and Refractive Surgery, more than 90% of patients achieve 20/20 vision after LASIK, and 99% achieve 20/40 vision or better, which is the legal vision you must have to drive without correction.3
Many patients still fear that they could be in the rare minority of patients that have serious complications from LASIK. The highest probability of serious vision loss or blindness after LASIK is actually associated with a bacterial infection called microbial keratitis – but this is extremely rare (occurring in 0.0046% of LASIK patients4), especially if you take all of your prescribed postoperative eye drops as instructed by your surgeon. Studies have actually shown that if you wear contact lenses for 10 years, you're six times more likely to develop a sight-threatening infection than if you'd had laser eye surgery5. Another research study found LASIK reduced the levels of self-reported rates of eye infections, ulcers, and abrasions.6
LASIK is too expensive!
LASIK may require budgeting for some patients, but when considering the cost of other vision correction options such as contact lenses, it may be more economical in the long term! The cost of doctor visits, contacts, glasses, and solution over 10 years may end up costing more than LASIK, which may reduce or eliminate some of those expenses.*
Average Vision Correction Costs:
Disposable Contact Lenses: $220-$260 annually7
Contact Lens Solution: $150-200 annually
Backup Glasses: $275 after insurance8
At Gordon Schanzlin New Vision Institute, we offer affordable LASIK financing to help patients fit LASIK into their budget.** Qualified patients can opt for no-interest 6 or 12 month plans or extended payment plans to spread the cost of LASIK out monthly for up to 48 months. Just think, choosing to cut a cup of coffee out of your daily spending or cutting out other expenses can all contribute to your LASIK fund!
Is LASIK painful?
Prior to the LASIK procedure, our team will use anesthetic eyedrops to numb the eyes and we offer our patients an oral sedative to calm nerves before the procedure. It is normal to feel some pressure when the flap is being created, but otherwise the patient should not experience any significant pain or discomfort.* It is normal to experience some irritation or minor discomfort as the eye heals for the first couple days after LASIK, but this can typically be alleviated with the use of artificial tears and over-the-counter pain relievers such as Tylenol or Ibuprofen.
LASIK recovery takes a long time
LASIK actually has a very quick recovery time – many patients are able to return to work the day after their procedure. Most patients notice improved vision within the first 24 hours after surgery, which should continue to improve in the days following the procedure.*
Following surgery, you will need to take regular post-operative drops to facilitate healing, and you must not wear makeup for the first few days following LASIK. You will also want to want to minimize strenuous activity for 1-2 weeks following surgery, and you cannot go into hot tubs or any open bodies of water such as the ocean, lakes or rivers for 2 weeks.
Schedule Your LASIK Consultation
It is completely normal to want to understand the benefits and risks of a medical procedure and we encourage anyone considering LASIK to contact us with any questions. During a consultation one of our experienced surgeons will examine your eyes to determine eligibility and discuss the details procedure. We are passionate about vision correction and eye health, and we are proud to be a leading LASIK provider in San Diego. Contact us to schedule your appointment!
*Individual results may vary
**Financing available for qualified patients. Patients must qualify via an approved independent medical lender. Loan offers are given by independent lenders based on approved credit and not everyone will qualify.
Footnotes
1. https://www.myalcon.com/products/surgical/wavelight-refractive-suite/excimer-laser-speed.shtml
Mrochen M, Donitzky C, Wüllner C, Löffler J. Wavefront-optimized ablation profiles: theoretical background. J Cataract Refract Surg. 2004;30:775-785.
2. Ophthalmology Volume 116, Issue 4, April 2009, Pages 691-701
3. https://americanrefractivesurgerycouncil.org/laser-eye-surgery-lasik-success-rate/
Journal of Cataract & Refractive Surgery, Vol. 42, Issue 8, August 2016, Pages 1224-1234.
4. Infectious keratitis after laser vision correction: Incidence and risk factors
Schallhorn, Julie M. et al. Journal of Cataract & Refractive Surgery , Volume 43 , Issue 4 , 473 – 479.
5. https://www.focusclinics.com/blog/microbial-keratitis-contact-lens-infection-vs-lasik/
J Cataract Refract Surg. 2017 Jan;43(1):67-73. doi: 10.1016/j.jcrs.2016.10.022.
6. Ophthalmology. 2016 Aug;123(8):1659-66. doi: 10.1016/j.ophtha.2016.04.003. Epub 2016 May 18.
7. http://www.allaboutvision.com/contacts/faq/contact-cost.htm
8. https://www.consumerreports.org/eyeglass-stores/how-to-get-the-best-eyeglass-lenses/