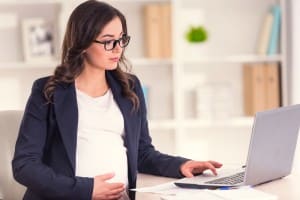 In most cases, candidacy for LASIK surgery is determined by the thickness of the cornea, eye health, a stable vision prescription for a year or more, and good overall health. However, there are some additional factors to consider for patients who are pregnant. Due to the hormonal changes women undergo during pregnancy, as well as some of the medication typically used during LASIK surgery to increase the patient's comfort, pregnancy may not be the best time to undergo laser vision correction.
The hormonal changes to the body can make predicting the outcome of LASIK surgery more difficult. In addition, since the body is constantly changing, the normal recovery process from the procedure can be affected. The medications commonly used, such as a sedative during the day of surgery, may impact the pregnancy and therefore should be avoided as an unnecessary risk. If you are considering LASIK surgery and planning a pregnancy or are already pregnant, our experienced ophthalmologists recommend making an appointment to check the current vision prescription for your eyes. Then, once you have delivered your child and waited a few months for your body to return to normal, you can have a second eye exam performed. Our doctor will double-check that your vision prescription has not changed and determine whether the time is right to schedule your LASIK surgery appointment.
If you have questions about LASIK and the best time for you to have the procedure, please contact Gordon Schanzlin New Vision Institute today.