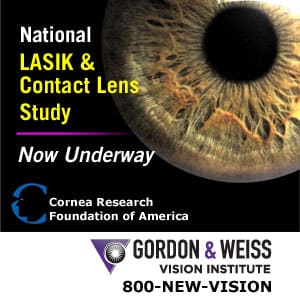 San Diego, CA – April 7, 2011 – The Cornea Research Foundation of America – an international not-for-profit research organization founded in 1988 to preserve, protect and restore human sight is conducting a national clinical study comparing visual results, patient satisfaction and quality of life issues as they relate to LASIK and contact lenses. Michael Gordon, M.D. and Jack L. Weiss, M.D., Gordon Schanzlin New Vision Institute, will be the San Diego participants in this international, multi-center study.
This will be the first prospective study to follow these two popular methods of vision correction for nearsightedness, astigmatism, and farsightedness simultaneously.
Qualified candidates for the LASIK portion of the study must be above age 21, have naturally occurring nearsightedness, farsightedness and/or astigmatism and have had no prior eye surgery. To participate in the contact lens portion of the study, qualified candidates must meet the above criteria, and have worn contact lenses at least 5 years.
The goal of the study is to enroll both patients undergoing LASIK, and patients who will continue to wear contact lenses. The end point will be to determine if visual satisfaction, visual complaints and safety – as reported by participants – are similar or different between the two groups.
"We are extremely pleased to participate in this national LASIK and contact lens study," said Michael Gordon, M.D. and Jack L. Weiss, M.D. who will serve as the Principal Investigators for Gordon Schanzlin New Vision Institute. "This pivotal landmark study has the potential to give timely and valuable information relative to these two widely used means of vision correction."
Patient consents and surveys will be conducted over the internet using a HIPAA compliant web portal, that will automatically coordinate future patient surveys at the one, two and three-year anniversaries of the study date of entry.
Gordon Schanzlin New Vision Institute is enrolling patients in the study through June 30th, 2011. Qualified candidates in the study will receive compensation for their participation in and completion of the study.
For more information about the study, or to see if they qualify, candidates should call 1-800-NEW-VISION
Michael Gordon, M.D.
Dr. Michael Gordon is a leading expert in refractive surgery. For over two decades, he has been involved in every aspect of the laser vision correction industry, as a surgeon, researcher and educator. Dr. Gordon has performed thousands of procedures and is among the most experienced refractive surgeons in the world. He performed the world's first All-Laser Blade-Free Custom Wavefront LASIK procedure, which eliminates the use of a blade to create the corneal flap and allows for a wider range of personalized treatment options. Together with Dr. Jack Weiss, he introduced Presbyopic Multi-Focal LASIK, (the first laser vision correction procedure to treat both near and distance vision) to the United States.
Dr. Gordon is recognized world-wide as a pioneer in the field of refractive surgery. He has taught and lectured throughout the world and is the only surgeon in the U.S. to have been involved in all phases of the clinical investigation for the Summit laser. He has authored many articles, written chapters for three textbooks on refractive surgery and recently co-authored a book on Wavefront technology.
Dr. Gordon's clinical interests lie in leading the way for the future of laser vision correction through his continued commitment to develop the most advanced techniques and technology available.
Jack l. Weiss, M.D., F.A.C.S.
Dr. Jack Weiss is recognized for his expertise in refractive and cataract surgery. He is one of a select group of surgeons in the world performing the latest innovative laser vision correction techniques. He has led the San Diego community as Chief of Ophthalmology at Sharp Rees-Stealy Medical Group, Scripps Encinitas, Sharp Cabrillo and Sharp Memorial hospitals and has served as President of the San Diego Eye Bank. Dr. Weiss is the recipient of prestigious awards for outstanding research from the American Academy of Ophthalmology and the University of Chicago. He has published and taught extensively. In addition, he co-produced a video in conjunction with American Academy of Ophthalmology in order to train eye surgeons to perform safer techniques for cataract surgery.
Dr. Weiss' current practice consists of advanced cataract surgery and the latest refractive techniques, including laser and lens procedures to treat Presbyopia. His current research endeavors include perfecting lens implant technology and further developing refractive treatments.