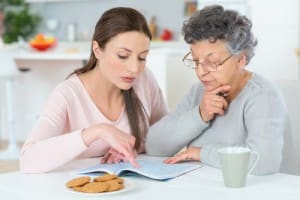 An intraocular lens (IOL) is an advanced option for patients to improve their vision without heavy dependence on glasses and contact lenses. While these lens implants can be very beneficial for patients who may not be candidates for laser vision correction but still wish to reduce their reliance on corrective eyewear. These patients would benefit from a procedure known as Refractive Lens Exchange (RLE). These advanced IOL's are also helpful for patients who are undergoing cataract surgery. In fact, patients who have their natural lenses replaced with IOLs during cataract surgery can decrease or in some cases eliminate their dependence on corrective eyeglasses after treatment.
Dr. Michael Gordon, Dr. David Schanzlin, and Dr. Alison Gordon offer many types of IOLs designed to provide patients with the best possible results for their unique needs. Here are a few of the most common and how they are distinct from each other:
AcrySof® ReSTOR® – This is a multifocal IOL that can improve both near- and far-distance vision. The ReSTOR® intraocular lens is one of the most popular IOL options because of its ability to enhance a full range of vision.
Tecnis® – The Tecnis® multifocal IOL can also improve vision at a range of distances, and can be very helpful for patients who have presbyopia (age-related near-vision blurriness). This IOL is also known for its ability to help patients see more clearly in low-light conditions.
Crystalens® – The Crystalens® is known as an "accommodating" IOL. With the ability to focus very much like the natural lens of the eye, the Crystalens® can improve vision at the full range of distances and is often beneficial for those who need correction for far-distance and intermediate-distance vision.
Trulign™ – This IOL is an example of a "Toric" lens. The Trulign™ is an accommodating lens implant that can correct a comprehensive range of distances similar to the Crystalens and with an added benefit: it can also correct astigmatism.
Read more about our state-of-the-art intraocular lenses here. During your initial consultation and eye evaluation, one of our experienced ophthalmologists will talk with you about your options and help you determine the ideal IOL for your needs.