Ryan The Adventure Seeking Athlete
Meet Ryan – an energetic, intelligent and athletic young man who is active in sports and in his community. As an avid traveler, Ryan has already visited all 50 states and 5 out of 7 continents. But life wasn't always so upbeat for Ryan. At the age of 16, Ryan was on his way to losing his sight permanently. Here's his story…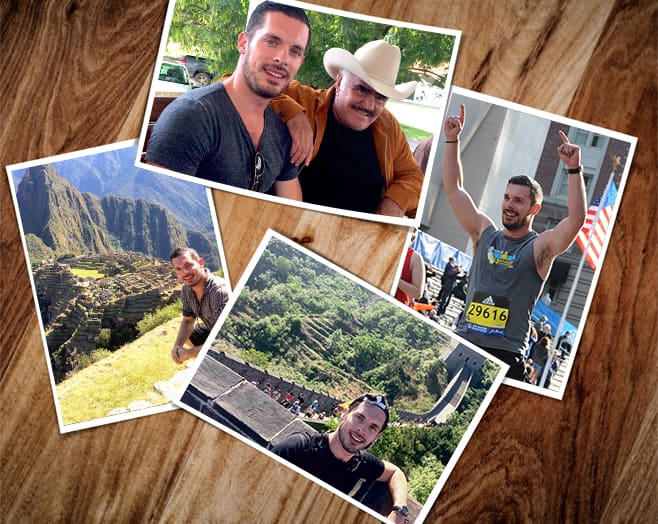 Ryan's Keratoconus Diagnosis
In high school, Ryan was a top outfielder on his baseball team. He had one of the best seasons he's ever played. He was at the height of his game. At the start of the new season, he noticed his vision began to change. Objects were blurry, shapes were merging and duplicating, and nothing was clearly identifiable. He was also no longer able to see the baseball – at all.
"It wasn't the sun or clouds or any other distraction. A pop fly would be coming straight for me – a simple catch for any experienced outfielder, something that I've caught hundreds of times successfully and now, I couldn't see it coming. The ball landed and hit the ground at my feet. I could hear the coach yelling from the sideline and I knew something wasn't right." -Ryan
As time went on, he continued to notice issues with his vision. Driving at night was difficult. Everything he saw was blurry. The computer screen was also difficult to focus on.
"I kept moving my chair closer, moving the monitor closer, and drank caffeine to help wake up my "tired" eyes. But nothing seemed to work" -Ryan
Ryan decided to get some medical advice and went to a retail chain eyeglass store to have his vision checked. Surprisingly, he checked out with 20/20 vision, however, the optometrist recommend he see a comprehensive eye care professional for his "soft eyes".
Around the same time, Ryan was pursuing his motorcycle license. Sadly, he failed the DMV vision test. In order to move forward with the process and get a motorcycle, he would have to go see an optometrist for further testing. This time, in addition to the vision test, he got a topography map of the cornea (similar to an xray). Ryan was officially diagnosed with Keratoconus, a progressive eye disease that alters the shape of the cornea into a cone-like shape.
Wearing glasses did not help improve his sight. Contacts provided some improvement, but the pain was unbearable. The contacts would constantly pop out and fly away in the wind. Getting a small fragment of dirt or dust inside his contacts was a daily occurrence. He endured wearing contacts for two years, all while doing research on Keratoconus and the available treatment options.
Corneal Crosslinking with Riboflavin
During one of his visits with his optometrist, the doctor suggested a new procedure called Cross Linking. Cross linking stops the progression of keratoconus, preventing further vision deterioration and the potential need for corneal transplantation.
Ryan's doctor recommended Gordon Schanzlin New Vision Institute for their specialized experience in cross linking. From consultation to surgery, the entire process took about 90 days. Dr. David Schanzlin performed the procedure for Ryan and according to Ryan, he did an excellent job.
"Dr. Schanzlin would joke with me and make me laugh. He was nice and made me feel comfortable." -Ryan
Recovery took about 30 days where Ryan mentioned experiencing some pain and discomfort. He recommended future patients considering the crosslinking procedure to clear their calendars during the first few weeks of recovery. As an extreme athlete, Ryan has trained and competed in several ironman races and even he just wanted to rest on the couch after surgery.
At his 30 day postoperative follow-up appt, his recovery was officially complete. Ryan's vision, however, was still in need of correction as a result of the changes that had already taken place on his cornea from Keratoconus. He would still need to wear contacts in order to have clear vision, but they would finally fit correctly and feel comfortable. And Ryan was lucky to have stopped the progression of the disease when he did, preventing his vision from getting any worse.
Sharing His Story
Before his diagnosis, Ryan had never heard of Keratoconus nor the dangers of the disease. He felt compelled to share his story and educate others about the dangers of Keratoconus. He created two amazing videos that he posted to YouTube, discussing his diagnosis and detailing step by step his cross linking procedure.
"If you or someone you know is experiencing blurry or double vision, please see an eye care professional as soon as possible!" –Ryan
Reaching Thousands Around the World
With nearly 10K views at the time of this article, hundreds of people have already reached out to Ryan personally to thank him for creating the videos. Many ask him additional questions about Keratoconus, the cross linking procedure, and how his vision is doing today.
"Thank you for the great video! I also have the condition and it's really helpful to be able to show people this so that I can explain it to people." –Harry R.
"This is a good video. Thanks for sharing." –Kylie B.
"Hope all went well! I suffer from Keratoconus and it is no joke…Thanks for sharing and I will definitely be looking into this procedure!" –Marcye S.
What's next for Ryan?
He's going to the moon! And he's being serious – well sort of. Ryan is passionate about travel and seeing the world – er galaxy, so why not?