Nhi and Touraj – Newlyweds, World Travelers, and GSNVI LASIK Patients
At Gordon Schanzlin New Vision Institute, we are honored when our patients share their LASIK success stories with us. When Nhi and Touraj followed up with us, we were thrilled by their joint success story and charmed by the commitment that these travel-loving medical professionals share.
Nhi and Touraj's LASIK Love Story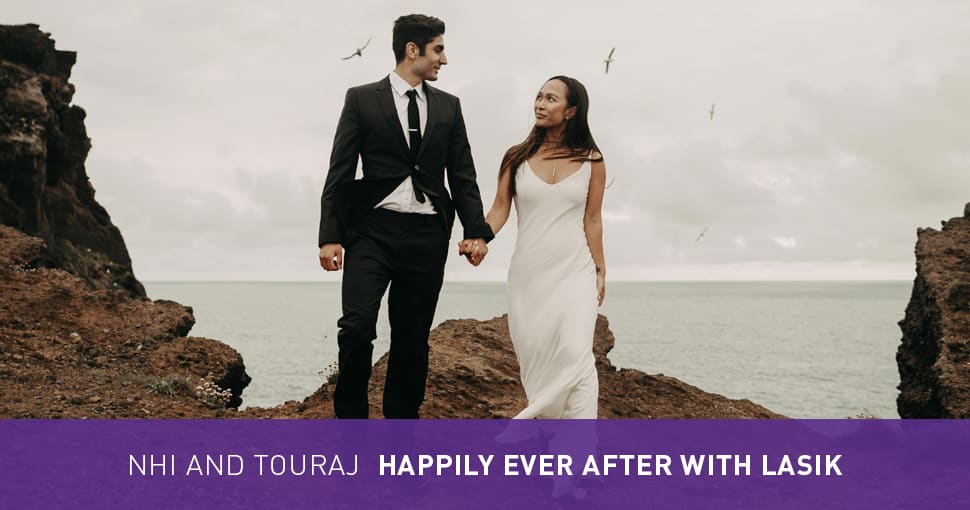 "We have already spent so much of this time seeing the world behind lenses, that it was time to enjoy our experiences without glasses getting in the way."
Nhi and Touraj met while working at a neurology clinic and felt immediate chemistry. As they fell in love, they discovered a mutual appreciation of world travel and adventure. Another thing they had in common was imperfect vision. Nhi knew that LASIK could have many benefits for her work and her hobbies, but she also had another reason for pursuing vision correction surgery. Nhi says, "I wanted to read my vows at our wedding without squinting!"
Nhi went to LASIK consultation appointments with three different vision practices in the San Diego area, and ultimately chose Gordon Schanzlin New Vision Institute because she says that she "felt the most comfortable and confident with Dr. Schanzlin and his staff." She was nervous, but excited for her LASIK surgery day, and after LASIK Nhi says that "there was ZERO pain and minimal recovery time."
When Touraj was ready to improve his own vision, he says that his decision was prompted in part by his "envy of Nhi's great results after her LASIK." Touraj wasn't too nervous for his surgery day since he had been there for Nhi's surgery. He says "having already experienced my wife's procedure from the other side, going through my own LASIK felt very familiar and I knew I was in good hands. The procedure was painless, and I woke up the next day already appreciating the results."
Nhi and Touraj both work in neurology and appreciate the ease that LASIK has brought to their work lives. As a Physician Assistant, Touraj is constantly focusing on charts, computers, and MRIs at a fast-paced clinic. In Nhi's work as a neurologist's scribe she is also putting in significant screen time. Whether working, traveling, exercising, or relaxing with a book, they are enjoying life with LASIK. Touraj says, "I am very happy with my results, I recovered well and am lucky enough to have now 20/20 vision, maybe even slightly better. I couldn't be more appreciative of my experience." The couple agrees that, "Our only complaint is that we waited as long as we did." They were especially impressed with the level of service they received at Gordon Schanzlin New Vision Institute, both from Dr. Schanzlin and in their follow up care from optometrist, Dr. Diana Pust.
"It was a joy to get to know Dr. Pust. She completed both of our post op follow ups, and our subsequent visits to continue to check our vision. She is welcoming and her care has been such a cornerstone to our experience with the clinic. We don't make follow ups to check on our vision anymore, we make follow ups to see her and share in all the fun things we have been able to do. But she is not an anomaly there. Having both had our own experience in the clinic, and working in medicine ourselves, we have been absolutely surprised at the extremely high standard of care the staff there has provided. Everyone is kind and personable. This clinic should be commended on the level of excellence is seems to have in every facet of the experience they provide to their patients."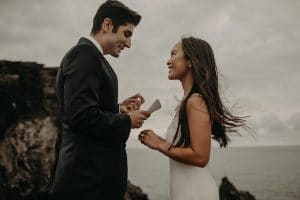 Nhi and Touraj were recently married in Iceland, and neither one needed glasses to read their vows.
*Results May Vary