Kelly the Veteran, Mom and GSNVI Employee
Kelly isn't just a LASIK patient at Gordon Schanzlin New Vision Institute, she is also an employee. Having a behind-the-scenes view of the San Diego ophthalmology practice, Kelly felt confident trusting LASIK surgeon Dr. Alison Gordon with her vision. She says that she noticed as soon as she became a part of the Gordon Schanzlin New Vision Institute team that, "The doctors are extremely talented and everyone here has a passion for what they do."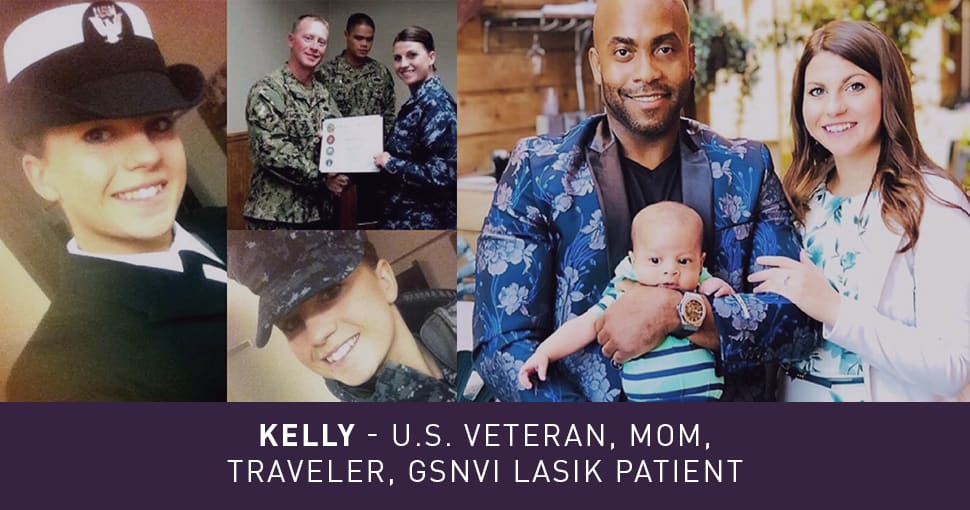 Prior to working at the practice, Kelly was a member of the United States Navy. We caught up with this busy mom and veteran to learn more about her decision to have laser vision correction surgery and talk about her life with LASIK.
Kelly's LASIK Story
Kelly started wearing glasses and contacts her freshman year in high school, but struggled with the inconvenience, saying "Everything was extremely blurry without them and I always had to ensure I had a backup of both with me at all times." Her frustration with glasses and contacts increased when she joined the U.S. Navy in 2011, following in the footsteps of her military family. Kelly explains:
"As Seabees, "we build, we fight" is always incorporated into everything we do. As an EO, I'd operate a wide variety of heavy-duty construction equipment for projects that include everything from building, roadway and pier construction, to grading and excavation.
My poor vision always made this a challenge because you have to be capable of following your ground guides, reading blueprints, and knowing exactly where to operate. Glasses are difficult to wear safety glasses over and with my contacts, the dirt and debris always made its way to my lenses making it hard to see and extremely uncomfortable when operating."
Today Kelly is a mom in an active, blended San Diego family with three children, and one of their favorite things to do together is travel the world. She and her husband try to visit at least 2 new countries a year, and LASIK has been very beneficial to their traveling lifestyle. Kelly says:
"I never want to be distracted from enjoying those trips and sharing the experience with my family. I always had to stock up on contact lenses and solutions before going anywhere and ensure I had plenty of backups while out and about. This was always stressful because if something happened and I didn't have those, I wouldn't be able to do anything because of my vision. I was completely dependent on them and needed them for my quality of life overall."
When asked what compelled her to have LASIK, Kelly explains that the convenience of a life that was less dependent on glasses and contacts inspired her to schedule vision correction surgery. She says, "I remember wondering what it would be like to not have to put in any contacts, carry solutions with me, or worry about if I had any extra pairs with me or not."
Kelly was more excited than nervous on the day of her LASIK surgery and she was pleased with how quick the process was. She followed post-op instructions to rest after surgery and when she woke up from her nap she was thrilled, recalling "I could see everything, perfectly clear!" Now that Kelly is enjoying life with LASIK, she encourages anyone considering laser vision correction to take the first step because "you can't put a price on quality of life." When reflecting on her experience, she says that she is "thankful for the dedicated and skillful team we have here and the quality of life they can offer individuals one vision correcting surgery at a time."
We Thank Kelly and Our Active Military Members and Veterans
All of us at Gordon Schanzlin New Vision Institute are grateful for Kelly's service and the service of other U.S. veterans and active military members. We are proud to employ those who have served our country, and honored to provide eye care and vision services for many active military members in San Diego.
*Results May Vary