Dr. Julio Echegoyen's Light Adjustable Lens RLE Story
As a board-certified ophthalmologist and refractive surgeon at Gordon Schanzlin New Vision Institute, Dr. Julio Echegoyen is an expert in vision correction. However, being a vision correction surgery patient for the first time gave him a new perspective. Dr. Echegoyen had refractive lens exchange (RLE) performed by Dr. Alison Gordon. RLE corrects vision by replacing the eye's natural lens with an advanced technology intraocular lens implants (IOL) and Dr. Echegoyen chose the new Light Adjustable Lens™ from RxSight®.
"Experiencing vision correction surgery from the patient side has given me a 180 degree perspective." -Dr. Echegoyen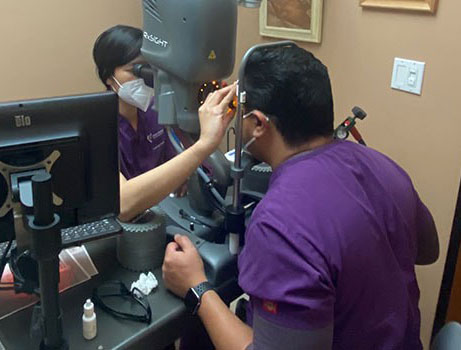 Dr. Echegoyen's Path to Ophthalmology in San Diego
Julio Echegoyen was born in El Salvador and came to the U.S. as a child to escape the war in his home country. While the rest of his family considered the move to be a temporary one, he was determined to pursue the American dream and he made plans to stay here after the rest of his family returned to El Salvador. He worked as an EMT in Los Angeles for four years before pursuing his medical degree at the University of California, Irvine. Dr. Echegoyen originally pursued neurology, but that field did not suit his optimistic and cheerful personality. He found his calling in ophthalmology, which allows him to change people's lives for the better by improving vision and restoring sight. After honing his cataract surgery skills at a high volume practice in Chula Vista, he was thrilled to join GSNVI in sunny San Diego in 2017.
"GSNVI has always been world renowned for excellence and innovation and quality of work. I love working here every day." -Dr. Echegoyen
Dr. Echegoyen's Vision Story
Dr. Echegoyen's own vision was compromised by hyperopia (farsightedness) and though he would have loved to get LASIK years ago, he was not a candidate. He could not tolerate contacts and had become used to wearing glasses, but life as a glasses-wearer became much more frustrating when the COVID-19 pandemic started. Dr. Echegoyen, who wore glasses 99% of the time, needed to add tape to his mask in order to prevent his glasses from fogging up and the tape irritated his skin. He had been waiting until he was a candidate for RLE, which in most people is sometime after 40. The pandemic, along with the beginning of age-related vision changes of presbyopia, motivated him to schedule his vision correction procedure.
Choosing the Right IOL—Why the Light Adjustable Lens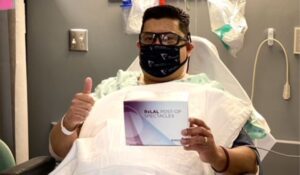 When it came time to choose an IOL for his RLE surgery, Dr. Echegoyen had a unique advantage since he has experience counseling patients on their IOL options. He stresses that there is no universal IOL, since every patient has different needs and goals. When choosing his own IOL, Dr. Echegoyen took into account the experiences of his patients as well as the advice of his colleagues. He knew that he needed a lens that would provide him with high definition vision so he could perform surgeries without the need for glasses. He chose the light adjustable lens (LAL) because he knew it could deliver great vision without a loss of contrast or side effects such as glare or halos.
"I definitely made the correct choice for me. There is no one-size-fits-all lens. We have to ask patients what their vision goals are, and guide them to make the right choice for them." -Dr. Echegoyen
When asked what he would tell someone who is considering the LAL for cataract surgery or RLE, Dr. Echegoyen is enthusiastic about this lens for anyone who is a candidate. A major benefit of the light adjustable lens is that it is the only IOL in which the prescription can be changed after it is placed. However, he does emphasize that people who receive this lens must be patient. In the weeks after surgery, the patient has several painless UV light treatments to adjust the prescription. While waiting for their prescription to be optimized, the patient must wear UV protective glasses at all times, which will be provided to the patient in dark and clear varieties.
Dr. Echegoyen's Life After RLE
Dr. Echegoyen is very happy with his results. After a life of wearing glasses from morning to night, he now has improved near and far vision and almost never needs them. As a surgeon who also enjoys outdoor activities, such as surfing and stand-up paddle boarding, he is enjoying the freedom of clear vision. He is even excited to wake up and see the alarm clock in the morning without having to put glasses on.
"It feels like natural vision when I was 15 and it has been life-changing." -Dr. Echegoyen
*Results May Vary
Interested in Improving Your Vision?
Gordon Schanzlin New Vision Institute is at the forefront of vision correction technology and was the first vision correction practice in San Diego to offer the light adjustable lens. Our team of experienced surgeons are leaders in their field. Contact us today to learn more about the light adjustable lens or other vision correction options in San Diego.