Gordon Schanzlin New Vision Insitute's LASIK Contest Winner Ashley
Our philosophy is simple, we believe in changing lives. We achieve this through vision correction surgery, community engagement, and philanthropy. A new vision signifies a continued vision, one that puts our community and clients at the forefront of our mission. We strive to always inspire our community to effect change through giving back, and that's why when we received Ashley's video entry to our 2012 Free LASIK Contest, we knew we had a winner.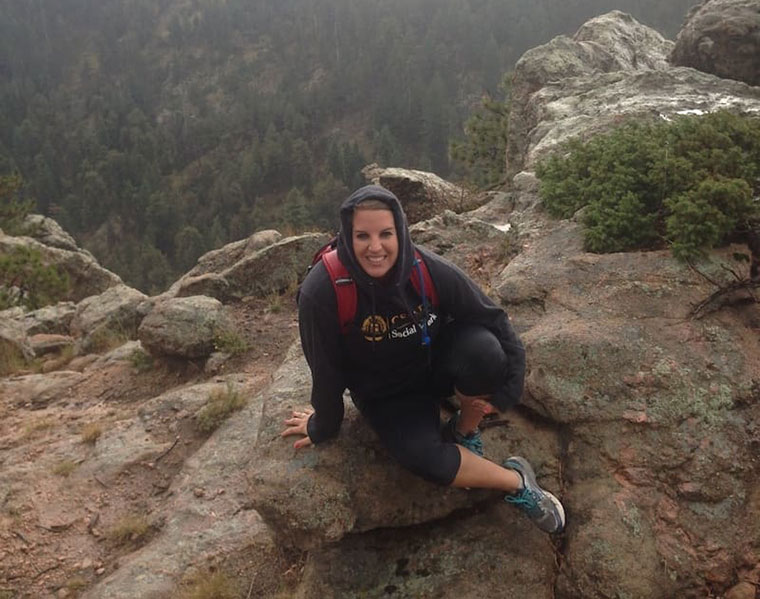 Ashley the Courageous Philanthropist
Ashley Nelson is a courageous philanthropist with a heart of gold who not only works locally to enrich her local community, but has also traveled to international destination to work with communities that need resources in community development and social work. We recently reached back out to Ashley to see where her journey has taken her and how having her vision restored has allowed her to continue her mission and follow her passion for building better
communities.
It's been a few years since you have LASIK, what have you been up to since your procedure?
After I came back from Uganda in 2012 I ended up working for Qualcomm for a year and prepared to go to grad school. I ended up going to grad school for a year at Cal State Long Beach, I realized that I could accomplish more and affect more change with a masters. I was also in interning at a women's center while in Long Beach, offering counseling services, it was really awesome. I got to lead process groups and educational groups with women who were dealing with substance abuse issues. After that I moved back to San Diego and ended up accepting a job with Interim Healthcare The Gift of Hospice and I'm a medical social worker. It's been awesome, I love working with hospice patients and their families.
What initially inspired you to do international social work and travel to Africa?
I have always wanted to travel and experience cultures other than my own. I love to learn about the way other people live. My sophomore year in college I spent a semester abroad so I lived in South Africa for five months working with the community and taking sociology classes as well, which allows me to learn even more about the cultures I was working with. I was really inspired by community engagement class, it allowed me to work in a battered women's shelter and with kids whose parents had died from the AIDS epidemic. This was only a few years post apartheid, so I was able to learn a lot about the culture and experience the disparity between a region like South Africa and the US.
And that's what inspired you to go to Uganda?
Yes, after I received my bachelors' degree I had the opportunity to travel to Uganda with my church. I ended up spending two months in a children's village. The hard part is from a social work perspective is that short term trips like that tend to benefit the people that go more than the people who live in the country, so for me as my world view as evolved I have tried to be conscious of that. As much as I want to go work in other countries, I want to make sure that it's actually benefiting the people I'm going to work with. Part of social work is empowering the people that are there to meet the needs of their own community. My dream is still to work in international community development, but I don't know exactly what that looks like.
How has having LASIK enabled you to continue your path in community work?
When I came back from Uganda my eye started burning really badly, and it was blurring my vision and I had to go to the eye doctor because I had torn my cornea and had to use prescription drops to heal it. My eye doctor told me that it would heal, but that there would be a scar. I had this sudden realization that if I wanted to continue doing social work, especially in third-world countries that I could potentially damage my eye or even go blind due to infection from my contacts. That really scared me, and so I looked into LASIK and heard about the contest and entered. It was such an amazing gift, because I realized that if I wanted to pursue my dream, I could end up having some major problems with my vision. Not having to worry about contacts or glasses has given me the freedom to go after any opportunity that is presented to me, so it's given me freedom.
Does that impact your daily life?
Yes, I work in hospice so I go into people's houses and nursing facilities, and I don't have to be worried about my contacts falling out or anything disrupting my vision, so I can focus on my patients. If I had contacts I would have to be aware of my contacts and glasses, so now I don't have to worry about the hassle of having contacts or glasses.
What does giving back mean to you?
For me giving back always looks different, as a social worker I'm always giving back in some way. I also try to make sure I'm doing that personally as well. The most important thing is being an advocate for people that don't have a voice, and recognizing people's humanity on a day-to-day basis. I try to recognize everyone I meet on a daily basis' humanity and dignity, and I keep that in mind whenever I talk to anyone whether they are a stranger or a friend. Being connected is an awesome way to live and being part of that giving cycle means that you will also get a lot back in terms of fulfillment and support from the community. Everything comes full circle.
Ashley's Humanitarian Efforts
Ashley is a medical social worker and a courageous humanitarian who won Lasik in 2012 with this video submission to our contest. Since her procedure Ashley has continued to work to empower people in their communities. She now works in hospice and without having to worry about glasses or contacts, she is able to focus on her patients. The Gordon Schanzlin New Vision Institute has helped many people pursue their dreams with better vision.
*Results May Vary