Amy's LASIK Story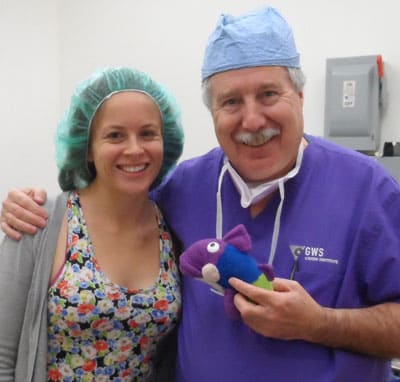 Just had my LASIK surgery done and I have 20/20 vision today! I am feeling AMAZING!!!!!! Everything they say about LASIK being the best decision they've ever made was right. I don't have memories of what it's like NOT to wear glasses or contacts, so to me, I have a brand new pair of eyes today.
Dr. Schanzlin came highly recommended by my optometrist, who sent his own son to him for LASIK. Dr. Schanzlin even performed LASIK on his daughter. If that's not confidence in his own abilities, I don't know what is.
This was the third LASIK office I researched. They impressed me even before my initial consultation by mailing the information packet to my house beforehand. The office is beautiful. Dr. Schanzlin is personable, has a sense of humor and treated me like a daughter. I met him the day of my consultation, which was a first. I never actually got to meet the surgeon at the other places I checked out. And when it came time to discuss money, they were able to work with me on a price that was suitable for both of us.
This isn't just a LASIK office. They are also a research facility. They have so many machines I've never seen and ran a few tests that I'd never even heard of. Talk about being up-to-date on technology!
I had no problems with the wait or parking. My appointment started on time. The office staff were perfectly friendly. I was a little nervous but everyone in the office was super relaxed and joked with me the whole time. I have nothing but good things to say about this place. They even gave me flowers this morning for my follow-up appointment. It's nice to know they understand how special this is to me. It is truly a cause for celebration. NO more tired, dry eyes!
THANK YOU everyone in that office!! I am so blessed and grateful and will be recommending you to my friends!
*Results May Vary