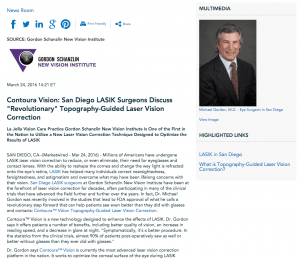 La Jolla vision care practice Gordon Schanzlin New Vision Institute is one of the first in the nation to utilize a new laser vision correction technique designed to optimize the results of LASIK.
San Diego, CA – Millions of Americans have undergone LASIK laser vision correction to reduce, or even eliminate, their need for eyeglasses and contact lenses. With the ability to reshape the cornea and change the way light is refracted onto the eye's retina, LASIK has helped many individuals correct nearsightedness, farsightedness, and astigmatism and overcome what may have been lifelong concerns with their vision. San Diego LASIK surgeons at Gordon Schanzlin New Vision Institute have been at the forefront of laser vision correction for decades, often participating in many of the clinical trials that have advanced the field further and further over the years. In fact, Dr. Michael Gordon was recently involved in the studies that lead to FDA approval of what he calls a revolutionary step forward that can help patients see even better than they did with glasses and contacts: Contoura™ Vision Topography-Guided Laser Vision Correction.
Contoura™ Vision is a new technology designed to enhance the effects of LASIK. Dr. Gordon says it offers patients a number of benefits, including better quality of vision, an increase in reading speed, and a decrease in glare at night. "Symptomatically, it's a better procedure. In the statistics from the clinical trials, almost 90% of patients post-operatively saw as well or better without glasses than they ever did with glasses."
Dr. Gordon says Contoura™ Vision is currently the most advanced laser vision correction platform in the nation. It works to optimize the corneal surface of the eye during LASIK procedures, diagnosing and recording imperfections in both the curvature and the optics of the cornea. The technology ultimately combines these measurements with the patient's eyeglass prescription to optimize the focusing surface. Dr. Gordon says, while previous techniques have been very effective at improving visual refractive errors, Contoura™ Vision takes the treatment one step further. "I think it's the best technology we have to treat patients to optimize their results."
Dr. Gordon explains that not everyone will be a candidate for Contoura™ Vision. For now, only those who have certain degrees of myopia (nearsightedness) and astigmatism are eligible for the new treatment. With that in mind, Dr. Gordon says, traditional LASIK surgery or alternative procedures, such as PRK, are still great options for patients who are not candidates. Dr. Gordon notes that a thorough eye evaluation and consultation can determine one's eligibility for Contoura™ Vision Topography-Guided Laser Vision Correction. "I think this is exciting new technology that furthers our goal of improving one's vision and we're very excited to have this technology."
About Michael Gordon, M.D.
Dr. Michael Gordon is certified by the American Board of Ophthalmology and is a founding board member of the International LASIK Institute. He is a member of the International Society for Refractive Surgery, the American Academy of Ophthalmology, the American Society for Cataract and Refractive Surgery, and many other medical organizations. Dr. Gordon has over 25 years of experience as an ophthalmologist and laser eye surgeon, and is known as the first surgeon in the U.S. to utilize the Summit excimer laser to correct myopia. He has been recognized with the American Academy of Ophthalmology's Achievement Award for his many years of distinguished service. He is available for interview upon request.
About Gordon Schanzlin New Vision Institute
Gordon Schanzlin New Vision Institute has been serving the La Jolla and San Diego community for more than two decades. Its group of eye care professionals includes laser eye surgeons, ophthalmologists, cataract surgeons, optometrists, and others who have a collective 90 years of experience in vision correction. Many of the practice's doctors are known as leaders in the field of ophthalmology and laser vision correction, as well as clinical research. In addition to laser eye surgery, the practice offers advanced cataract surgery procedures, lens implants, and treatment for eye conditions such as glaucoma, pterygium, presbyopia, dry eye disease, and many others.
For more information, please visit gwsvision.com and facebook.com/lasiksandiego.
Contact:
Gordon Schanzlin New Vision Institute
8910 University Center Lane
Ste. 800
La Jolla, San Diego, CA 92122
(858) 455-6800