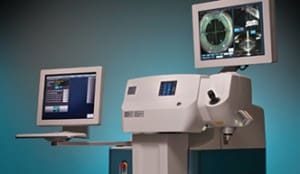 Norma is a Senior Citizen who was experiencing dim vision and was having trouble driving at night and seeing road signs. She says the change was so gradual, she didn't even realize how bad her vision had become. After 55 years as an RN, she is an avid reader and researched thoroughly the treatments available for cataracts. She chose to see Dr. David Schanzlin at Gordon Schanzlin New Vision Institute Institute to have her cataracts removed and correct her poor vision.
She says she was impressed with the whole experience, from initial exam to final outcome. Her consultation was very thorough and she learned about the type of lenses (Intraocular lens implants "IOL's") that would best suit her visual problem and correct her astigmatism.
She also was given the opportunity to choose between a traditional cataract procedure, in which the surgeon creates the incision with a blade and the new advanced laser cataract treatment that uses a laser with image-guided control to make the incision and to soften the lens for easy removal of the cataract. In some instances the laser is also used to create corneal incisions to reduce or eliminate astigmatism.
The LenSx® Laser, first images your eye to plan a procedure that's unique to you. A bladeless, computer-controlled laser then helps surgeons perform surgery with exacting, individualized precision not attainable with traditional surgical methods. 1. In Norma's case, she chose to have one eye treated with the traditional method and one eye with the laser assisted cataract surgery.
She says, "the recovery time was much faster in the eye treated with the laser and I have greater clarity in that eye. I much preferred the procedure with the laser."
Typically Medicare covers most of the cost of traditional cataract surgery and monofocal lenses, but there may be some additional out-of-pocket expenses involved, including additional testing associated with advanced technology lenses. See the following links for more information about laser refractive cataract surgery and the premium lenses available to help reduce your dependence on glasses and contacts following cataract surgery.