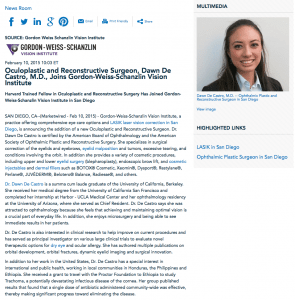 Harvard trained Fellow in Oculoplastic and Reconstructive Surgery has joined Gordon Schanzlin New Vision Institute Institute in San Diego.
San Diego, CA – Gordon Schanzlin New Vision Institute Institute, a practice offering comprehensive eye care options and LASIK laser vision correction in San Diego, is announcing the addition of a new Oculoplastic and Reconstructive Surgeon. Dr. Dawn De Castro is certified by the American Board of Ophthalmology and the American Society of Ophthalmic Plastic and Reconstructive Surgery. She specializes in surgical correction of the eyelids and eyebrows, eyelid malposition and tumors, excessive tearing, and conditions involving the orbit. In addition she provides a variety of cosmetic procedures, including upper and lower eyelid surgery (blepharoplasty), endoscopic brow lift, and cosmetic injectables and dermal fillers such as BOTOX® Cosmetic, Xeomin®, Dysport®, Restylane®, Perlane®, JUVÉDERM®, Belotero® Balance, Radiesse®, and others.
Dr. Dawn De Castro is a summa cum laude graduate of the University of California, Berkeley. She received her medical degree from the University of California San Francisco and completed her internship at Harbor – UCLA Medical Center and her ophthalmology residency at the University of Arizona, where she served as Chief Resident. Dr. De Castro says she was attracted to ophthalmology because she feels that achieving and maintaining optimal vision is a crucial part of everyday life. In addition, she enjoys microsurgery and being able to see immediate results in her patients.
Dr. De Castro is also interested in clinical research to help improve on current procedures and has served as principal investigator on various large clinical trials to evaluate novel therapeutic options for dry eye and ocular allergy. She has authored multiple publications on orbital development, orbital fractures, dynamic eyelid imaging and surgical innovation.
In addition to her work in the United States, Dr. De Castro has a special interest in international and public health, working in local communities in Honduras, the Philippines and Ethiopia. She received a grant to travel with the Proctor Foundation to Ethiopia to study Trachoma, a potentially devastating infectious disease of the cornea. Her group published results that found that a single dose of antibiotic administered community-wide was effective, thereby making significant progress toward eliminating the disease.
Gordon Schanzlin New Vision Institute Institute is pleased to welcome Dr. De Castro and to be able to provide additional cosmetic services to its patients. Dr. De Castro's dedication to excellent patient results and advanced surgical techniques make her well suited to the local San Diego team that has brought leading edge LASIK, cataract and refractive procedures to the region.
About the Gordon Schanzlin New Vision Institute Institute
Gordon Schanzlin New Vision Institute Institute has been serving the San Diego community for a collective 70 years in vision correction and laser eye surgery procedures. Offering services in LASIK, PRK, refractive lens exchange, and advanced laser cataract treatments, the GWSVI surgeons are all trained as Corneal Specialists, certified by the American Board of Ophthalmology, and have treated a combined total of over 75,000 refractive patients.
For more information, please visit gwsvision.com or facebook.com/lasiksandiego.
Contact:
Gordon Schanzlin New Vision Institute Institute
8910 University Center Lane
Ste. 800
San Diego, CA 92122
(858) 455-6800