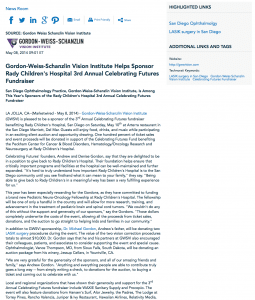 San Diego ophthalmology practice, Gordon Schanzlin New Vision Institute Institute, is among this year's sponsors of the Rady Children's Hospital 3rd Annual Celebrating Futures fundraiser.

La Jolla, CA – Gordon Schanzlin New Vision Institute Institute (GWSVI) is pleased to be a sponsor of the 3rd Annual Celebrating Futures fundraiser benefitting Rady Children's Hospital, San Diego on Saturday, May 10th at Arterra restaurant in the San Diego Marriott, Del Mar. Guests will enjoy food, drinks, and music while participating in an exciting silent auction and opportunity drawing. One hundred percent of ticket sales and event proceeds will be donated in support of the Celebrating Futures Fund benefiting the Peckham Center for Cancer & Blood Disorders, Hematology/Oncology Research and Neurosurgery at Rady Children's Hospital.
Celebrating Futures' founders, Andrew and Denise Gordon, say that they are delighted to be in a position to give back to Rady Children's Hospital. Their foundation helps ensure that critically important programs and facilities at the hospital can be well-maintained and further expanded. "It's hard to truly understand how important Rady Children's Hospital is to the San Diego community until you see firsthand what it can mean to your family," they say. "Being able to give back to Rady Children's in a meaningful way has been a very fulfilling experience for us."
This year has been especially rewarding for the Gordons, as they have committed to funding a brand new Pediatric Neuro-Oncology Fellowship at Rady Children's Hospital. The fellowship will be one of only a handful in the country and will allow for more research, training, and advancement in the treatment of pediatric brain and spinal cord tumors. "We couldn't do any of this without the support and generosity of our sponsors," say the Gordons. "Those dollars completely underwrite the costs of the event, allowing all the proceeds from ticket sales, donations, and the auction to go straight to helping kids and families in our community."
In addition to GWSVI sponsorship, Dr. Michael Gordon, Andrew's father, will be donating two LASIK surgery procedures during the event. The value of the two vision correction procedures totals to almost $10,000. Dr. Gordon says that he and his partners at GWSVI also encouraged their colleagues, patients, and associates to consider supporting the event and special cause. Ophthalmologist, Vance Thompson, MD, from Sioux Falls, South Dakota, will be donating an auction package from his winery, Jessup Cellars, in Yountville, CA.
"We are very grateful for the generosity of the sponsors, and all of our amazing friends and family," says Andrew Gordon. "Anything and everything people are able to contribute truly goes a long way– from simply writing a check, to donations for the auction, to buying a ticket and coming out to celebrate with us."
Local and regional organizations that have shown their generosity and support for the 3rd Annual Celebrating Futures fundraiser include WAXIE Sanitary Supply and Procopio. The event will also feature donations from Hansen's Surf, Alor Jewelry, the Padres, The Lodge at Torrey Pines, Rancho Valencia, Juniper & Ivy Restaurant, Hawaiian Airlines, Relativity Media, The W Hotel, and more.
"At the end of the day, it's a really fun night – that coupled with the fact that you're making such a profound positive impact on San Diego kids will hopefully bring people back year after year," says Andrew Gordon. "We are all very fortunate to be part of a community that is able to support and maintain a place like Rady Children's Hospital."
About Gordon Schanzlin New Vision Institute Institute
The team of eye surgeons at Gordon Schanzlin New Vision Institute Institute (GWSVI) has over 90 years of collective expertise in vision correction. They have served the San Diego community for 20 years, and were the first in the world to perform the All Laser Custom Wavefront CustomCornea® procedure. In addition to providing the latest technological advancements in LASIK vision correction, GWSVI specializes in a number of eye care surgeries for corneal treatment, cataracts, and other eye diseases. The surgeons at GWSVI are certified by the American Board of Ophthalmology, members of American Academy of Ophthalmology, and have been widely recognized as leaders in the field of clinical research.
For more information about Gordon Schanzlin New Vision Institute Institute, please visit gwsvision.com and facebook.com/lasiksandiego.

Contact:
Gordon Schanzlin New Vision Institute Institute
8910 University Center Lane
Ste. 800
La Jolla, San Diego, CA 92122
(858) 455-6800