Andy the MMA Fighter
"It's such a beautiful world. Being able to see it with a fresh pair of eyes is wonderful. You don't know what you're missing out on until you go through this experience. I honestly can tell you it's changed my life."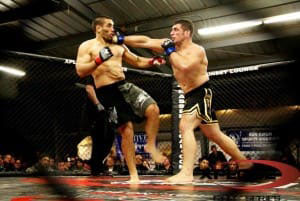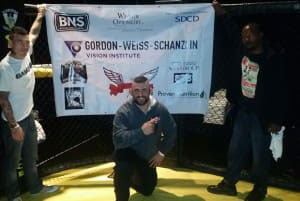 Andy's PRK Story
Our patient Andy, professionally known as MMA Fighter Andy "The Tooth Fairy" Murad, had been nearsighted throughout much of his life. He had difficulty driving, especially at night, and he hated wearing glasses. After being referred to Dr. Michael Gordon here at Gordon Schanzlin New Vision Institute Institute, it was determined that PRK eye surgery would be the best option for Andy. Even though he can't show fear in the ring, Andy shares the anxiety that many people have when it comes to anything coming near their eyes. But, as you'll see from Andy's story, it wasn't quite as bad as he imagined:
"From the beginning on the day of surgery, I was terrified. That's unusual for me to say because I am the type of person who can pretty much take anything. But, once I got into the procedure, Dr. Gordon was good at keeping me calm. I was tense at first… but, before I knew it, it was nothing. It took about two or three minutes per eye. I didn't feel anything, I was very comfortable – really no discomfort at all. Not that I would have to, but I don't think I would ever be afraid to have to go through that procedure again. No big deal at all."
After the PRK procedure, Andy is experiencing the benefits of something he's never really had before: clear vision without the need for corrective eyewear.
"I went out for a jog the other day, and it was the funniest thing… I was staring at the beautiful trees, and everything just looked so much nicer. I guess the hardest thing for me was: I'm a business owner, and in the business that I'm in, you have to be very personable and that's hard to do when you can't see who's coming your way.
"Sometimes, I catch myself squinting and then realize I don't need to. It's cool that I don't need to squint anymore. I don't have to worry about losing my glasses. Before, I wouldn't really like to drive the car at night, especially with my family – I didn't want to put my kids in danger. Now, I'm driving the kids and driving my wife around instead of asking her to drive because it's too late and I can't see so well. That's a huge plus.
"I have absolutely no regrets about the surgery. I understand that people have said the procedure is different for everybody, but as far as the couple of days of discomfort that you're supposed to feel [during recovery] goes, it wasn't that bad at all for me. Anytime my eyes got a little itchy, I just put some drops in and I was fine. I never needed to use any painkillers that I was given; they gave me some drops to numb my eyes if needed – I didn't use those either. It was fine. I would absolutely recommend PRK and Gordon Schanzlin New Vision Institute to my friends and family. I recommend it to everyone that needs it.
"It's such a beautiful world. Being able to see it with a fresh pair of eyes is wonderful. You don't know what you're missing out on until you go through this experience. I honestly can tell you it's changed my life."
*Results May Vary